2000 or 2001
How did I miss this?
Somehow I never wrote up a report on this gig. Around the turn of the century, I auditioned for and was booked as a baker in a promo for the Game Show Network. It was a Buy Out so despite my being a principal, it was a one-time payment with no residuals. However, the spot ran for eighteen months, and for each 13-week cycle a Holding Fee was provided... so I earned more from this spot than I did from my AmeriTech regional wild spot.
Filmed in the back of a Silver Lake bakery, I was given an apron and a red cap, and was able to retain my glasses. The spot was directed by Roman Coppola, who talked me through how to say, shout and scream the title-and-gag "Botulism, botulism...!" It was done pretty much in a single take; my saying the word over and over in different styles, variations, levels of frustration, et al.
At the time this commercial was shot began airing, I was working at a phone bank company of sorts, and ironically the fellow in the commercial sitting on the sofa with a girlfriend worked at the same place.
I never received a copy of the commercial, and it was still too early in my experience in professional acting (e.g., actually getting booked as opposed to countless high-ratio audition callbacks). for me to know the best way to acquire one.
Thursday April 09, 2009
Copy acquired
Every so often I do online searches to see if anything on which I've worked may have surfaced on YouTube or such. I came across a British site in England that had the Botulism spot, but to download it one had to subscribe. Before doing so, I came across another site which contained not only the Botulism spot, but also my Cardinal Beer Heaven and Hell and my award-winning Volvo Stray Dog spots! All as QuickTime .mov files, the site even already had my Pedigree Crazy Pets 2009 Super Bowl spot.
Having so much more of my work than the British site, I subscribed for a month ($29.99), I was able to download the spots, finally acquiring the copies that should have been provided by the ad agencies.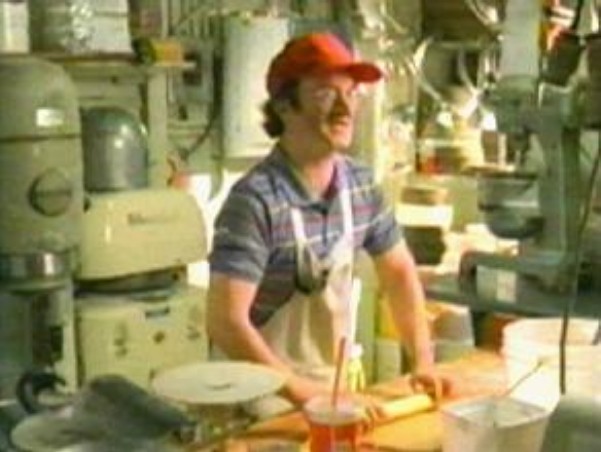 As the Red Capped Baker in the
Botulism Game Show Network promo
Thursday March 08, 2018
Video
As the date for shooting Bucky loomed closer, I was asked to provide my address for the insurance aspect.
I also provided my contact page's link. On that page is the Botulism photo. So I went to YouTube and found the spot was indeed viewable thereon.

Game Show Network Botulism promo