This past weekend (26-28 February 2010), a fortnight "late," was the annual Doctor Who convention GallifreyOne at the LAX Marriott. The convention's primary guests Peter Davison and Sarah Sutton each were unable to make it: Sarah's father had gone into hospital in Really Bad Shape (in a Possibly This Was It sort of thing), while Davison had the professor role in the musical Legally Blonde, what with the Marriott having screwed up the convention dates. Initially this annual convention is always held Presidents Day weekend, but the hotel double-booked, and it was set for the following weekend when the Marriott screwed up again, having the event wait to the last weekend of February instead of the second, and by then Peter Davison was stuck and unable to attend the convention. His lovely and talented daughter Georgia Moffett (who played the title role [of Jenny] in the episode The Doctor's Daughter), was able to make it, and for on-stage introductions, the ongoing irony of her being "the Doctor's daughter in more ways than one" was never passed up.
It was Georgia's first American convention, and she was gobsmacked over it, enjoying it tremendously, and stressing how much her father wanted to attend. This was also reflected in a pair of "apology videos" that had been provided, the first from writer Steven Moffat who (regarding the new [eleventh] Doctor), stressed that by next year everyone was going to be in love with Matt Smith, "even the straight men," he added.
Peter Davison's apology video was a bit more creative (and mostly hilarious), as he "took us" via his dressing room and montage of the musical, using his self-deprecating humour to pretend no one waited to meet him after the performance, that audience members couldn't remember his character from the show, and that to feel a sense of worth, instead of going to his own house, that he "often" breaks into David Tennant's home.
While the date change/s and the absence of specific guests was not earth-shattering (on hand they did have the versatile and always wildly entertaining Katy Manning, the slyly funny Frazer Hines, Deborah Watling, vocal artist Nicholas Briggs, Tommy Knight, Andrew Hayden-Smith, series costume designer Louise Page, classic and current era/s director Graeme Harper as well as Doctor's Daughter director Alice Troughton, John Levene (Sgt. Benton), and Buffy alumnus and book author Amber Benson, as well as numerous other guests).
Generally once or twice over the convention weekend they would hold a [free] Photo Opp, in which attendees would pose with the mains guests clustered about… This year, along with the foresightful concept of obtaining a queue number for the autograph session/s (I don't really collect autographs anymore as much as I collect photos of myself with celebrities I've met and/or with whom I've worked), they also chose to schedule the Free Photo Opp only on Friday, and at 1pm…
WTF…?
So the convention was willfully punishing those with fully paid memberships who still went to work on Friday and arrived later that day/evening if not Saturday? Based on results this was the only explanation. As it was, the only other "option" being a paid Photo Opp, in which one could choose Which Guest with whom to be photographed… for twenty dollars for each guest…! (It was implied the quickly provided hardcopy photo might be able to be signed later during the convention, but obviously they would not guarantee same; plus most of the celebrity guests were charging for autographs.) I save up for this convention, but again none of the vendors had Weeping Angel "in"action figures, so I figured what th'heck, I'd just get a shot of me with Georgia Moffett. I got my ticket for her time slot, and to get a .jpg emailed to me as well as the for-$20 hardcopy, I was upsold to an additional $10 (otherwise I'd have had to scan it myself which might not have come out as well). So a single thirty dollar photo [set] was my big splurge at the convention. The photo came out pretty well and I added it online for easy viewing.
Friday afternoon when I arrived, with Sarah Sutton unavailable, they filled her scheduled on-stage interview with live Doctor's Daughter commentary with Georgia Moffett and its director Alice Troughton. This was followed by Katy Manning's being interviewed by the erudite and amusing Gary Russell. Afterwards I went to the Con Suite for some munchies and a soda (as it the near equivalent of Craft Services), only to find it "closed" as they had some sort of "Ice Cream Social event" being prepared, so with my having to catch transit back to Sherman Oaks, I could retrieve nothing on which to munch whilst awaiting the buses.
I was able to attend most of the panel on the paranormal, facilitated by Nor Cal Paranormal Investigations. They're based up in Sacramento, and afterwards I provided them with the link to my Paranormal Experiences page and the link to para-x, so they could network with other groups. Ironically I am plan to attend a Queen Mary-based paranormal event at the end of April, and one debunker audience member poo-poo'd the concept of investigations at any place "already pre-considered" to be haunted, and she specified the (very haunted) Queen Mary, her "logic" being that pre-believing a place to be haunted therefore said place "cannot" be haunted (e.g., I doubt the non-investigator dink ever stepped foot on board: I know paranormal investigators who have come across ghostly evidence…).
On Sunday also was the on-stage session for the latest Podshock podcast, recorded live with the audience for later playback and/or direct download; essentially they interviewed the main guests for the ninety minutes'ish session, broken into three thirty minute blocks, hosted by Ken Deep Louis Trapani and James Naughton.
I could not stay for the closing ceremonies late Sunday as I had a rehearsal for a USC student film and it would take me about an hour and a half to get there from the convention. All in all the convention was okay… certainly not the best GallifreyOne, but this one stressed my needs that next year perhaps finally I should get a room at the convention hotel. Each year GallifreyOne has more attendees than previous year/s: this year they finally broke the one thousand members mark. Both Peter Davison and Sarah Sutton have respectively confirmed for next year, so hopefully the Marriott won't eff us up again.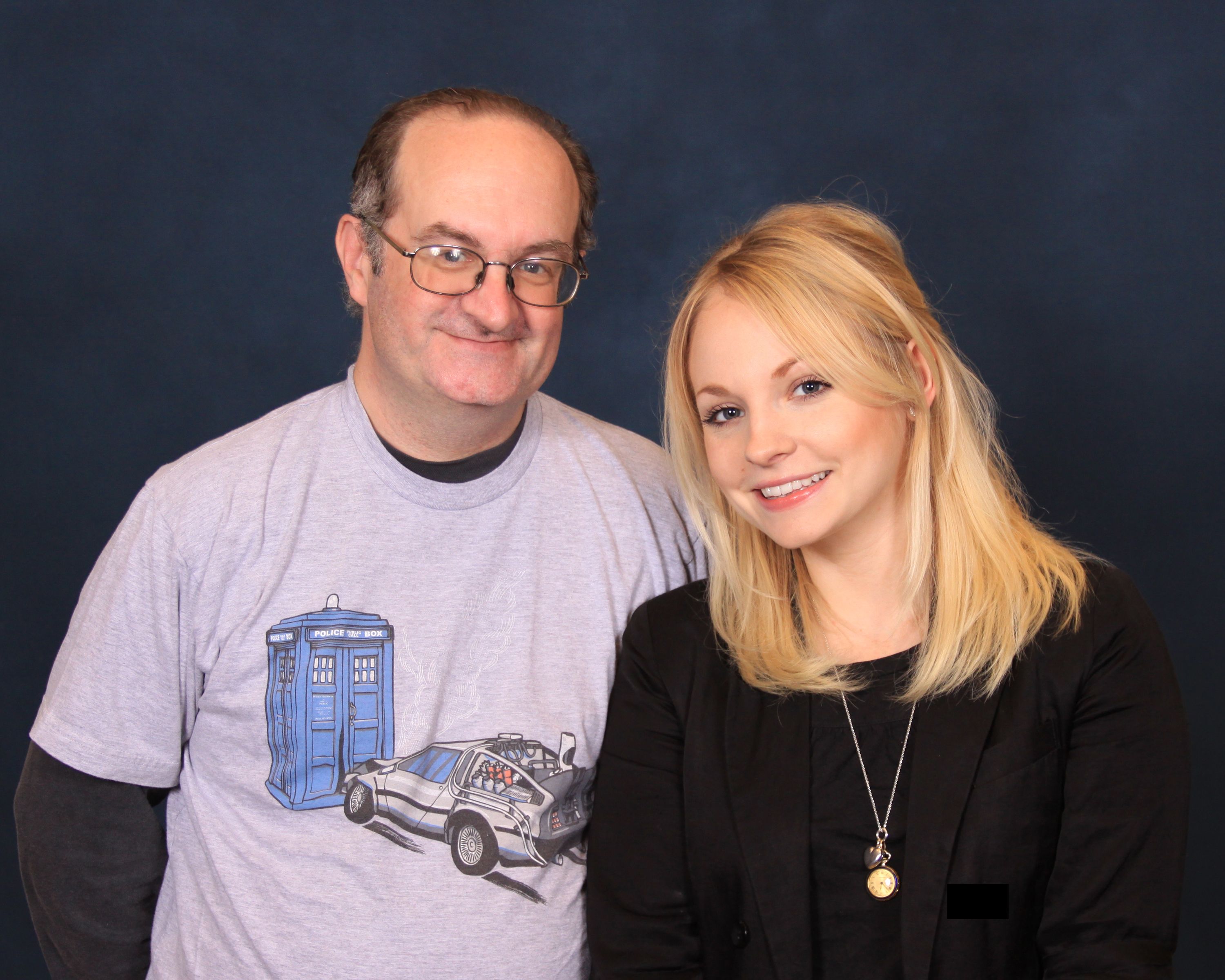 With Georgia Moffett at 21st GallifreyOne convention
(27 Feb 2010)