Robert
As partially reported on my South Gate Theatre report...
The 17th student film on which I worked was titled 100 percent. We filmed at the Allen Theatre down in South Gate. Originally a movie theatre, now it hosts live band concerts and such, and apparently the former theatre is also host to a few ghosts.
When my segment was done and I was wrapped and waiting for my promised ride home and as I had a lot of time on my hands, I went back to chat with the theatre's pleasant owner John and with his [wife?] and a young female worker and a young male worker named German Sanchez, and I got a few more stories about the place's haunting/s. Theatre worker German and I found another commonality as well: our mutual interest in and fascination for the famous Key West (Florida) haunted doll Robert. German indicated having written a screenplay about Robert, but didn't have the skill with which to construct his own version nor did he know anyone who could replicate the famous not-so-inanimate doll.
I've had a fascination with Robert for years, having seen him on various documentaries on hauntings and such.
I figured I'd put some Robert Links here for those who Wish To Know More...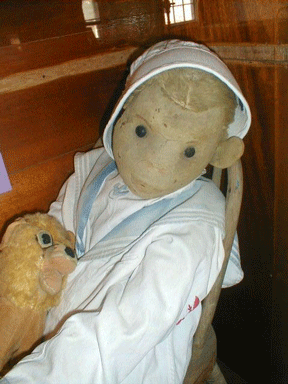 Robert...