At the interval, I was speaking with Micheal and Gene: it turned out that "something had happened" to the air conditioning unit. The theatre's AC was such one had to use a ladder to get to it: "somehow" its vent had slammed shut, which it could not have done on its own. That had been the sound that even I heard from my audience seat.
"Maybe you have a ghost," I couldn't help half-joking, knowing theatres' perchance for hauntings.
"Oh we do," Pamela off-handedly assured me, relating that every so often Things Went Bump In The Night, especially during late night rehearsals...
One set-piece (and plot point), on stage for the well received Snake in the Grass was a hollow, old well. The play is a suspense thriller, and it wasn't difficult to Get Worked Up even during the rehearsal process. One late evening the three women of the cast were on stage at the same time, when suddenly from the hollow well came a very precise knocking. This was clearly the knocking of Someone Inside The Well set-piece, not some random noise. It was deliberate and forceful.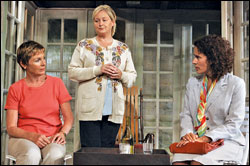 Pamela Salem, Claire Jacobs and Nicola Bertram in
Snake in the Grass at the Matrix Theater, April 2008